We are China factory producing 1080P 4K 8K (60Hz) High Speed HDMI Cable Audio Cable Video Cable, HDMI to HDMI cable, male/female, DP mini to HDMI cable Product parameter introduction:
| | | | | |
| --- | --- | --- | --- | --- |
| Product name | HDMI cable | | power cord length | L=1m-15m(customizable) |
| Model /Applicable cable: | HDMI1.3/1.4/2.0/2.1V 30AWG/28AWG/26AWG | | Color | Black/customized |
| Conductor/material | Standard copper conductor / PVC outer cover | | Certification | HDMI Adopter |
| Resolution | 1080P/4K/8K(60hz) | | Application | General for home and electrical equipment |
| Bandwidth | 10.2/16/48Gbps | | Sample | Free for 2 piece or less |
| Trademark | Wirestec | | Environmental protection | ROHS |
| Transport Package | in Export carton | | Origin | China |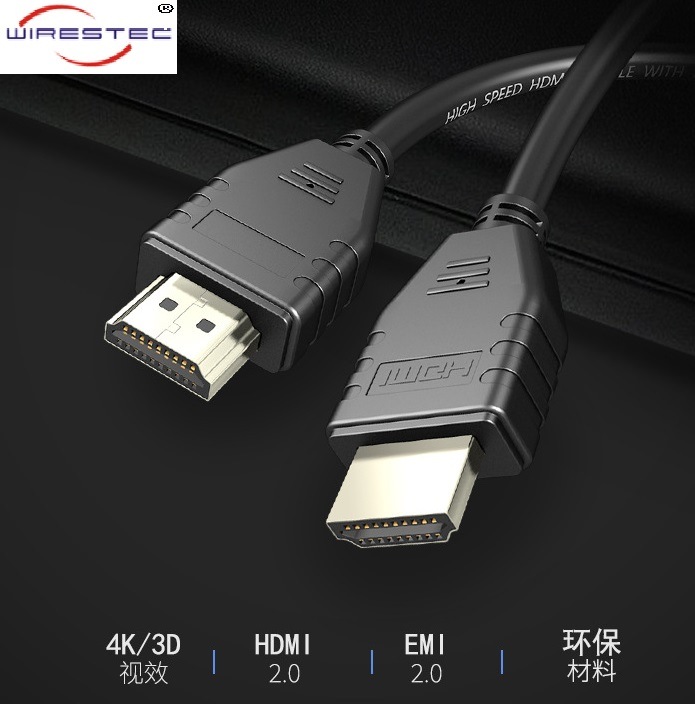 1. Quality: HDMI is digital interface, so all the analog connection wich require singal to be transfered from analog to digital will not be lost, so it can provide the best video quality. This differece will be shown more obvious at 1080p or more. Video with digital singal can be more clear than S-Video, HDMI can discount the soften and trailing sitiation founded in the S-Video. The version with detail like micro and high contrast can be developed to it's maximum.
2. Easy to use: HDMI integrate Video and mutiple channel Audio function, so it removes the cost of current A/V system using mutiple cables and it's complexity and condusion, which is very useful during upgrade and adding equipment.
3. High Intelligence: HDMI can support video source ( like DVD player ) and DTV's two way communication, and some other new functions like auto set and onekey play. Using HDMI, equipment can automatically transfer the top functioned format (as 480p vs 720, 16:9 vs 4:3) to save the user's time of choosing format and sometimes to guess which is the best format.
4. High definition content: Equipment which support HDCP and HDMI can access higher level clearity content. HD-DVD and Blu-ray have delay the start-up of movie boycott label to high clearity movie nowadays ( content protection markup), to help minimize the potential problem caused by transfer, but was hoping to initiate in few years, which means high clearity movie can not be played by unportected portal in the future.
Features:
1.High pure Copper conductor for maximum conductivity
2.Gold-plated connectors for excellent conductivity, maximum signal transfer and corrosion resistance
3.Digital video and audio transfer in one connection
4.Triple shielding(2*Foil and Braid) for maximum rejection of EMI and RFI
5.Transfer Rate: 10.2Gbps
6.Function: 3D, (up to)1080P, V1.3/V1.4/V2.0
7. OEM service according to requests.