Welded Steel Mill and Drag Chains
W Series Welded Steel Mill Chain
WH Series Welded Steel Mill Chain
WD Series Welded Steel Drag Chain
Welded steel drag chain is built according to ISO 6971 and ANSI B29.18M. Products provide efficient and economical service when used in chip and sawdust conveyors, and like applications. Reverse barrel is available. Attachments includes C1, C3, C4, RR and Wing.
With their large wide pushing area, welded steel drag chains provide sizeable carrying capacity when operated at moderate speeds. They can be run in the same troughs and on the same sprockets as their cast chain counterparts.
Welded Steel Mill Chain includes offset sidebar welded steel mill chain(or cranked link welded steel mill chain), straight sidebar welded steel mill chain and welded stainless steel mill chain as per ISO 6972 and ANSI B29.16M. These versatile welded steel chains are used throughout the forest products industry and paper processing industries as economical alternative for comparable cast chains. Manufactured with the most advanced techniques, equipment and high quality steels, these chains offer improved resistance to wear and shock loads for a broad range of applications of conveying, transmission and elevations. A variety of attachments are also available for different conveyor and elevator applications: A1, A2, A22, F2, F4, H1, H2, K1, K2, R1, RR1, R2, R22, W1.
Welded steel mill chains are recommended for most conveying, driving, and elevating applications where a high-strength steel rollerless chain is required. These chains will operate on the same sprockets as their cast chain counterparts.
The direction of travel for welded Mill Chain is determined by the application. If used in a conveyor application, the direction should be with the open end first. If used as a drive chain, the closed end, or the end with the barrel, should be first.
Chain No. W78/W82/W106/W110/W111/W124/W124H/W132/W134/W150/W155/W157/
W182/W784/
WH78/WH82/WH106/WH110/WH111/WH124/WH124H/WH132/WH150/WH155/WH157/WH784/
WD102/WD104/WD220/WD112/WD113/WD116/WD118/WD120/WD122/WD480/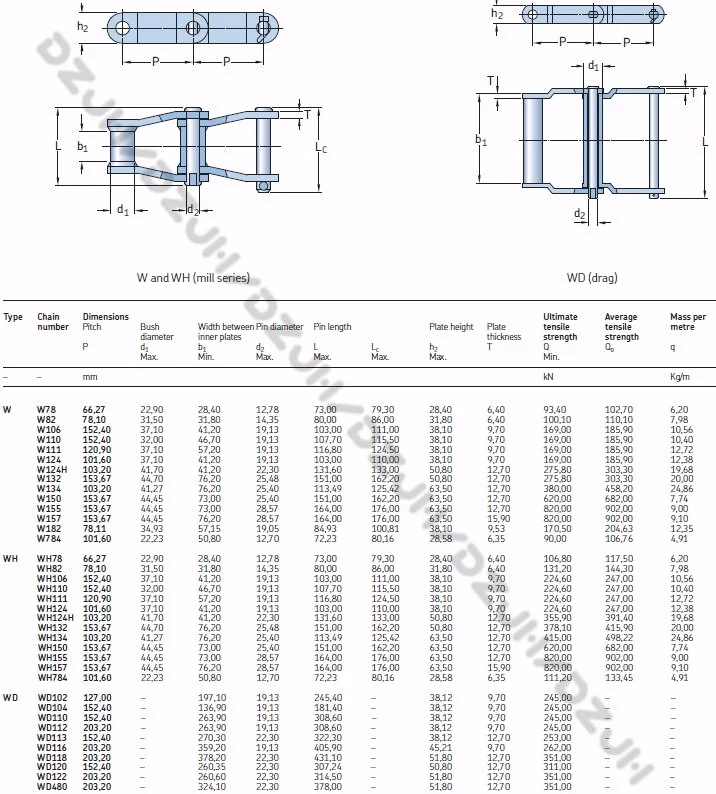 WD Series welded steel mill and drag chains
We 24 hours service for you!